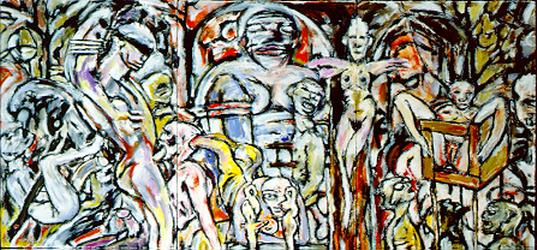 ONE FLESH EXHIBITION

La Luz de Jesus Gallery
4633 Hollywood Blvd
Los Angeles, CA 90027
(213) 666-7667

April 4 - 27, 1997


"Flesh is our indisputable commonality. Whatever our race, our religion, our politics we are faced every morning with the fact of our bodies. Their frailties, their demands, their desires. And yet the erotic appetites that spring from - and are expressed through - those bodies, are so often a source of bitter dissension and division. Acts that offer a glimpse of transcendence to one group are condemned by another. We are pressured from every side - by peers, by church, by state - to accept the consensual definition of taboo; though so often what excites our imaginations most is the violation of taboo.
In the series of acrylics on paper works I've made for this exhibition I wanted to explore my own erotic imaginings, not as a series of pornographic tableaux (though some of the pictures reference those scenarios) but as a more fantastical envisioning of the shapes our sexual hunger takes.
These are large, colourful paintings; sometimes tinged with melancholy (as is any business to do with our physical bodies) but often, I hope, celebratory and humorous.
I want to make an exhibition which will be like a sexual carnival - raucous and surreal - designed to engage the heads, hearts and groins of its spectators.
Here, for a time, nothing is forbidden; nothing is condemned, and our flesh - always beautiful in arousal - is portrayed as it transforms into new shapes, reflecting the complexities of our desire."
Clive Barker - Los Angeles
11th February 1997