The Inhuman Condition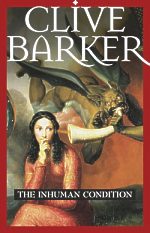 In these five tales you will discover The Inhuman Condition--a world of ordinary people, going about their daily business, until suddenly they take a wrong turn and find themselves on the twisted back roads of the human psyche, in a world of powerful eroticism, violence and uncontrollable desires.

Here hands begin a violent revolution against the minds that control them; conundrums lie hidden in a piece of knotted string--and each knot, when unraveled, releases a dark, hungering nightmare; here the living and the dead find an unholy sexual alliance in a forsaken motel room; here the first truly effective aphrodisiac releases a monstrous depravity upon the world; here a palace is built to lure Satan back to earth.

Travel these harrowing roads with Mr. Barker, and watch as he unflinchingly reveals the landscape. His wit will lure you, his supple style will delight you, his graphic vision will scare the daylights out of you. He will darken your daydreams and illuminate your nightmares.
CONTENTS
The Inhuman Condition
The Body Politic
Revelations
Down, Satan!
The Age of Desire
Copyright 1985 by Clive Barker
Originally published in Great Britain by Sphere Books Ltd. under the title Books of Blood, Volume IV.
Published in hardcover in the United States by Poseidon Press (a division of Simon and Shuster, Inc.) Copyright 1986.
Published in paperback in the United States by Pocket Books (a division of Simon and Shuster, Inc.). First Pocket Books Printing August 1987.
The Inhuman Condition
by Clive Barker
Trade Paperback - 192 pages (February 27, 2001)
Pocket Books

Place Order

The Inhuman Condition ~ Usually ships in 24 hours
Clive Barker / Mass Market Paperback / Published 1991
Published by Pocket Books

Place Order

The Inhuman Condition ~ Ships in 2-3 days
Clive Barker, Dillinger Steele (Narrator) / Audio Cassette Published 1996
Published by Sunset Productions

Place Order