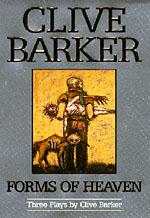 Before he wrote the novels that made his name touchstone of imaginative fiction worldwide, before he made the films that set new standards in cinematic terror, Clive Barker wrote for theatre: plays which are,like his books and his films, rich and multi-layered journeys into widly inventive worlds.

Last year, with the publication of Incarnations, he made three of these plays available to readers, actors and directors alike. Now in the second collection, he offers us three new journeys, each creating a real and vividly painted world touched by the strange and the transcendental.
---
In Crazyface, we follow the adventure of Tyl Eulenspiegel, a great clown cast adrift in the midst of Europe's Dark Ages, where he finds a line between comedy and tragedy so fine it can be crossed in the blink of a fool's eye.

In Paradise Street, Barker creates an indelible dramatic portrait of his native Liverpool, whose grim, gray streets are transformed before our astonished eyes by an extraordinary band of time-travlers.

In Subtle Bodies, a play which mingles sensuality and sexuality in a truly outrageous fashion, we are taken to swim in the sea of dreams which will later appear (as Quiddity) in such Barkers bestsellers as The Great and Secret Show and Everville. Here-in the kind of theatrical coup all three plays revel in-the power of desire and rage transforms a commonplace hotel into a ship that sails the dark waters of the dream-sea until misfortune overtakes it....

Though each of these plays evokes a very different world, they share a vision of how imagination enriches and transforms our lives. From the haunted and bittersweet humor of Crazyface to the politically charged landscapes of Paradise Street and on to the erotic fantasy of Subtle Bodies, Barker demonstrates yet again why he is among the most popular and treasured of contemporary writers.

Whether you are an avid theatre goer or simply a reader who wants to take a step into a wounderland, these three plays are an opportunity to taste the passion and the power of one of modern literature's most original visions.