In the Flesh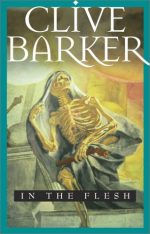 With his first collections of short fiction, Clive Barker has streaked like a comet across the literary horizon, establishing himself firmly in the tradition of such luminaries of horror as Poe, Lovecraft and King. In this new collection, Barker proves once again how entertaining, erotic and resonant the best horror fiction can be. For he knows the sins the flesh in heir to, and he is not afraid to peel away that flesh and explore the deeper aberrations of the psyche that lie beneath.

Join Mr. Barker on his dark investigations: into a prison cell where a young prisoner searches for his grandfather - and finds himself in a a city of which we are all prospective citizens, where the sins of the flesh are infinitely malleable; into a housing project, where an evil feeds on a rumor, gaining life from the lips of the crowd, and a young academic doing research finds herself face-to-face with a forbidden truth; into a labyrinth, where two businessmen from the wrong side of the law encounter a mystery, a seduction that leads to a life source beyond their wildest imagining; into a strange asylum where the fate of the world hangs in the balance, beginning with a game played with frogs . . .

Mr. Barker will lead you to new and terrifying places; he will prove himself a disarmingly elegant and graphic guide; he will make you understand why "there is no delight the equal of dread."
In the Flesh
Paperback (February 2001)
Pocket Books

Place Order

In the Flesh ~ Usually ships in 24 hours
Clive Barker / Mass Market Paperback / Published 1991
Published by Pocket Books

Place Order

In the Flesh ~ Ships in 2-3 days
Clive Barker, Dillinger Steele (Narrator) / Audio Cassette
Published by Sunset Productions 1996