Books of Blood
Volumes One to Three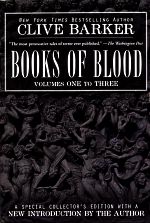 The stories that launched Clive Barker's phenomenal career--now in one special collector's edition and featuring a new Introduction by the "New York Times" bestselling author.

With the 1984 publication of Books of Blood, Clive Barker became an overnight literary sensation. His tour de force collection of brilliantly disturbing tales demonstrated a genius for dark invention that rivaled Poe and Sade. He was hailed by Stephen King as the "future of horror," and won both the British and World Fantasy Awards. Clive Barker's Books of Blood marked the beginning of a career that would transcend genre and media. As a screenwriter an ddirector, he launched the phenomenal Hellraiser Series of Films. As a gifted artist, he inspired an acclaimed collection of graphic novels. But it is his powerful writing style and arresting imagery that have made Books of Blood an instant classic -- and Clive Barker a cult phenomenon. Read him and rediscover the true meaning of fear.
Read the original unedited introduction as Clive submitted it. The part that was edited out is in red.
Books of Blood; Volumes One to Three
Softcover
Publisher: Berkley Publishing Group
Pub. Date: September 1998
Place Order